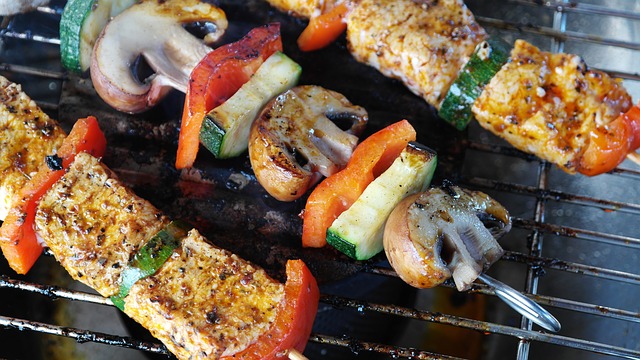 Hot & Spicy Shrimp and Sausage Kabobs
Hot and Spicy Shrimp and Sausage Kabobs
Hot and Spicy Shrimp and Sausage Kabobs Ingredients:
1 1/4 cups North Country Basting Sauce (find recipe here)
Juice of 1/2 a medium lemon
2 tbsp minced onion
2 tbsp minced jalapeno peppers
1 pound hot Italian sausage
1 pound fresh large shrimp in the the shell
Instructions:
Blend the basting sauce, lemon juice, onion, and jalapeno peppers in a large bowl. Set aside.
Bring 2 quarts of water to a boil in a large pot. Prick the sausage several times with a fork and then boil for 5 mins. When cool enough to handle, cut into 1/2 inch slices and add to the marinade along with the shrimp. Stir to coat well. Cover and set aside for 1 hours; it may be refrigerated for several hours.
Preheat the grill to medium- high. Thread four or five long skewers alternately with the shrimp and sausage. Either grill or broil, far enough from the heat to prevent charring, for about 10 minutes total or until the shrimp are pink. Turn occasionally during cooking and brush with more sauce. And be sure to tell your guests that the shrimp is in the shell.
Notes:
Yields about 4 servings.
This recipe is from the Maple Syrup Cookbook by Ken Haedrich.